Welcome to the Fourth issue of Verdict Payments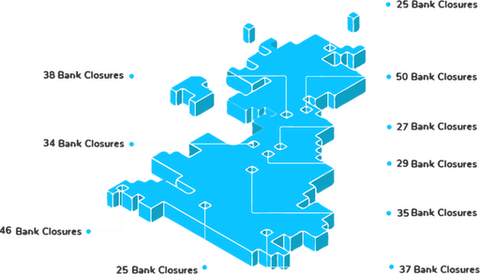 December 2018
ISSUE 4
Cash displacement to accelerate but the UK is no Sweden Mark II
The tabloid press loves a bit of bank bashing. Branches shuttered, ATMs axed, jobs slashed have been just some of the frequent headlines in recent years.
If some of the more excitable press comment is to be believed, you would think that accessing your own cash is becoming a major challenge.
In fact the anti-cash brigade, go so far as to suggest that we are on the verge of a cashless society.
Ten years ago cash accounted for 61% of all UK payments. Today it accounts for 34% (13.1 billion) of the 38.8 billion consumer payments. And this year, for the first time ever, debit card payments exceeded cash for the first time.
Almost 5,000 UK ATMs close in 12 months
Almost 5,000 ATMs closed in the year to end June in the UK (see graphic).
Almost 700 UK bank branches have closed during 2018, taking total UK bank and building society branches to less than 7,500 (see table).
These figures provide plenty of ammunition to the argument that the days of cash are numbered.
It is timely to cut through the far-fetched tabloid headlines and put the figures into some kind of context.
Cash displacement will accelerate but cash will still account for about 16% of all consumer payments by 2027. The corresponding figure today in Sweden is less than 15%.
The first time UK visitor to Sweden today will find spending cash in the major cities quite a challenge.
In the UK, cash will remain a pillar of the economic system. LINK is committed to maintaining a network of free to use ATMs and is shifting incentives from deploying ATMs in city and town centres to more remote and less-affluent communities.
There are around 55,000 free to use ATMs in The UK with another 13,000 pay to use ATMs, even after the closures of the past year.
By international comparison, the UK is not short of ATMs.
Throw in political intervention, or depending on your point of view, political interference, and there is another argument to suggest that cash use and ATMs are in no danger of extinction.
2m+ UK adults reliant on cash
There remain over 2 million adults in the UK almost entirely dependent on cash to live their lives. They include groups such as the elderly, the disabled, and people in debt or with low incomes, or those who live in rural communities where digital infrastructure is poor or non-existent.
Any major effort to go down the Swedish route – the majority of bank branches cashless and shops refusing to accept cash – will result in a political backlash. The Treasury Select Committee will have a field day.
Remember what happened when it was suggested that the cheque had had its day and cheques ought to be axed as a means of payment? Charities lobbied their local MPs with such vigour, the idea to end axe cheques was quietly dropped, or at least postponed to another day.
The fact that the cash infrastructure – printing new notes, running ATMs, distributing ATMs and retailers with cash – costs around £5bn to run will not sway politicians.
And given the threat to the high street, it is unrealistic to think that retailers en masse are suddenly going to risk alienating a section of their customers by refusing to accept cash.
Douglas Blakey, Editor