The new payments players changing the game
If the financial sector wasn't competitive enough, payment firms such as PayPal and Alipay started to build up their market share. Now tech giants such as Apple, Samsung, and Android are throwing their propositions into the field. Who is set to win out? GlobalData has some research on the matter

Payment service providers (PSP) Alipay and PayPal have the largest transaction value at $417bn and $354bn respectively. Alipay is one of China's most popular mobile payment solutions.
A report released by the United Nations Conference on Trade and Development (UNCTAD), stated that in China, the preferred payment method for B2C e-commerce is Alipay, which is used by 68% of all online shoppers in China, noting that payment service providers like Alipay will soon surpass traditional payment methods in Asia.
Even with tough competition from incumbent providers and startups, payment giants like Paypal are still able to hold its ground. Between 2005 and 2015, the payments industry saw an influx of alternative payment solutions competing to provide the most seamless and convenient payment solutions for consumers.
Apple Pay, Samsung Pay and Android Pay all came into the market between 2011 and 2015. Due to the rise in online and digital purchases, smartphone payment providers are witnessing a global increase in the number of transactions.
In 2016, the value of transactions for Apple Pay was $90bn, compared with $55bn for Samsung Pay, and $8bn for Android Pay.

The use of mobile payments is set to increase as the payment providers keep up with trends and demands of consumers with the introduction of new technologies, such as biometric authentication.
These three smartphone payment providers lead the charge in mobile payments, making it difficult for smaller companies such as Pingit ($2bn) to compete on a global scale.
However, the rise of merchant pay reflects the fundamental shift in consumer payment trends. The evolving payment landscape is leaving room for retailers to make an entrance into the mobile wallet space. Starbucks Wallet ($4bn) entices consumers with its rewards ad star scheme. The success that Starbucks is having has pushed other retailers to do the same with the introduction of Tesco Pay in the UK and Decat Pay in France.
Alternative payment providers that focus mainly on mobile payments are small compared to providers that encompass all aspects of online commerce, however changing trends among consumers is creating space for the smaller providers to debut alternative methods with their own rewards and incentives attached.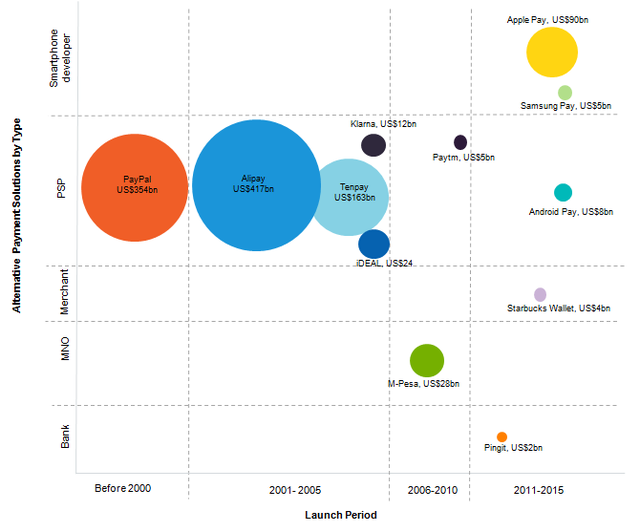 The top 3 global alternative payment providers have grown rapidly on the back of the fast growing online commerce market. Alternative payment solutions that mainly focus on mobile proximity payments are relatively small compared to solutions that focus on facilitating online commerce. Note: Alipay and Tenpay value reflects B2C e-commerce transactions only