The rise of digital technologies in payments from smartphones and wearable devices to artificial intelligence— is rapidly transforming how consumers in Canada desire to pay. Friction at the checkout service is causing more Canadian shoppers to abandon their purchases altogether.

The survey, conducted by Leger Marketing Inc., and Payments Canada researched the various and emerging payment habits of Canadian consumers.

The survey noted that Canadians are increasingly adopting more digital solutions. The top three forms of payments are credit cards, debit cards and cash. However around 55% of Canadians are willing to give up cash altogether.

Gerry Gaetz, president and CEO of Payments Canada, said: "The high abandonment rates at check-out suggest there is a high cost of not integrating faster, more convenient payment technologies. Canadian consumers are speaking with their wallets, indicating that they will not buy from those businesses that don't make the payment experience easy."
Overall, Canadians prefer to use credit and debit cards as their main payment method. Out of all the payment options, 69% of those surveyed stated that they used a credit card more frequently. Coming in second is the use of debit cards at 60%.


Two-thirds (67%) of Canadians use their credit card for monthly payments. Furthermore, loyalty rewards also scoop up a large amount of credit card payments with three-in-four (74%) saying they use their credit to collect rewards.


The reason for credit card usage is divided between generations. Canadians ages between 18 and 44 are significantly more likely to use their credit card for monthly payments. This is likely to build up a credit history. On the other hand Canadians aged over 35 are more likely to use their credit card to earn rewards.


Although physical cards are still extremely popular, Canadian consumers living in cities are enticed by the notion of invisible payments. Mostly those living in urban areas are drawn to invisible payment methods. In urban neighbourhoods, consumers are more interested in payments becoming more invisible (49%). That's compared to those living in suburban (42%) or rural (31%) areas that depend more on cash and physical cards.


Overall, 43% of Canadians are interested in invisible or non-check-out payments in store. Payment platforms such as Amazon Go, AliPay and WeChat Pay offer a frictionless checkout process. Invisible payments technology will significantly reduce the number of abandoned checkout purchases across Canada. Coupled with enhanced security, it gives customers peace of mind and an added level of convenience while banking and shopping on a daily basis.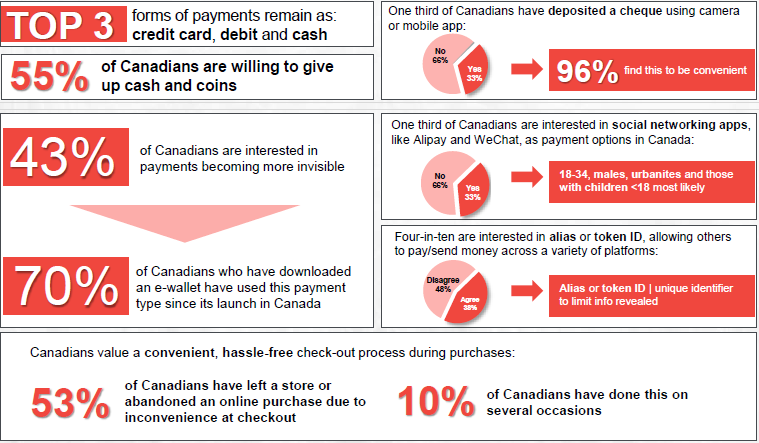 Rise of digital payments technology
While traditional payments are methods are still more popular in mature markets such as the US and Canada, alternative digital payments are growing fast. The Canadian payments industry is witnessing a shift towards digital. Paying with a mobile device and downloading e-wallet are fast becoming a more enticing way to pay.


According to the report, four-in-ten Canadians store personal credit card information with a mobile app or online ecommerce site, and the vast majority (86%) feel confident that the app or service provider they are using ensures the security and privacy of their personal credit card information.


The survey also noted the traction that e-wallets are gaining among Canadian consumers. Out of those quizzed, 70% of Canadians who have uploaded an e-wallet have used this payment type at least once since its launch in Canada.


On the rise of digital payment methods in Canada, Gaetz added: "With record levels of overseas travel, many Canadians are getting a taste for new, more convenient digital payment platforms and are expecting to see these technologies roll out in Canada as well.


"Fortunately, we are working with Canadian financial institutions and key government stakeholders to design and implement new payment systems, rules and standards that will make it possible to introduce faster, safer and more data-rich payment options for Canada's businesses and consumers."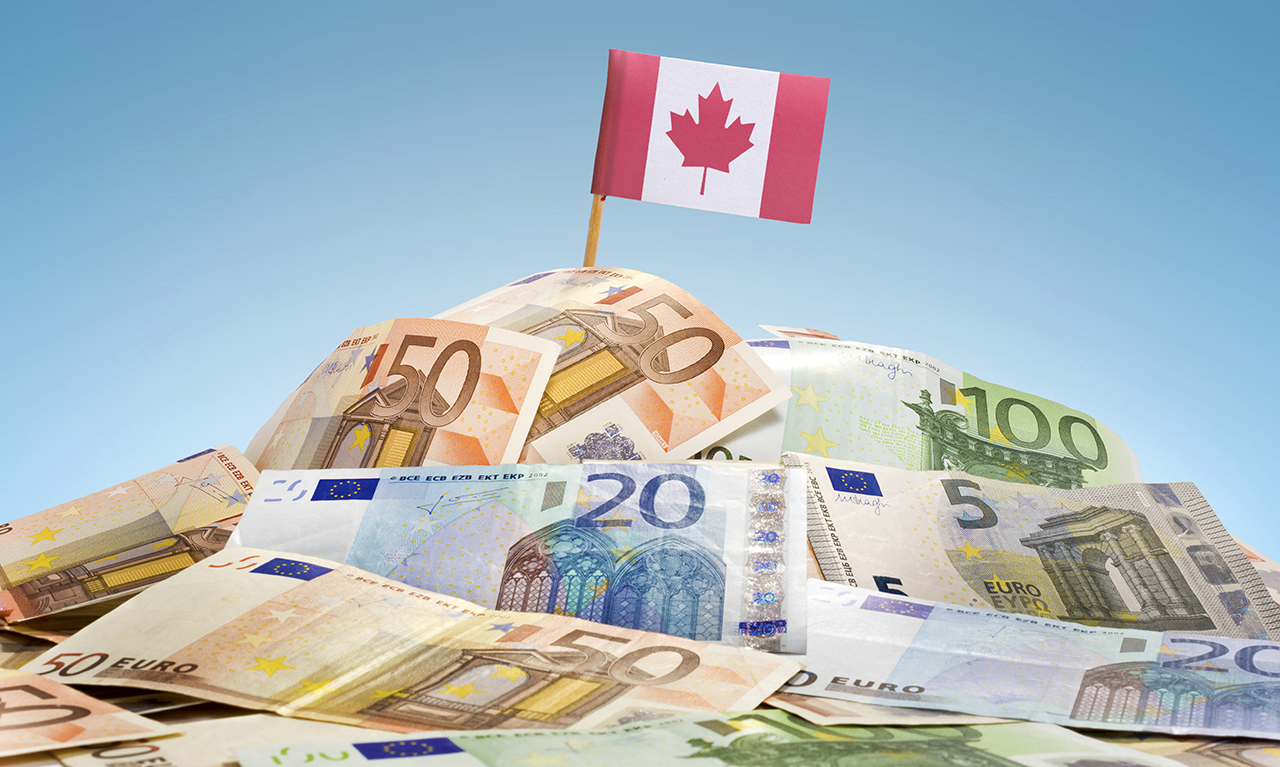 Social media platforms have a significantly larger customer base than any bank. What started as a stage for connecting people with others across the globe has steadily transformed into a business tool that is now consumed by various advertisements and promotions.


The next step in the social media space is the implementation of payments gateway. Quick, accessible and convenient, placing payments within platforms such as Facebook, Alipa and Twitter could reshape the whole sector.


The trend is steadily catching but mostly among the millennial generation. Those aged between 18 and 44, predominantly male and live in urban cities are significantly more on board with the idea of paying through social media.


Overall, the emerging payments innovation still has a way to go as one-third (33%) of Canadians are interested in social networking apps, such as Alipay and WeChat, as a payment option in Canada, while 60% have no interest at all.


The invasion of new digital technologies is certainly reshaping the Canadian payments sector. In the coming years mobile and e-wallets will almost certainly take off. Whether paying through social media will become the norm is yet to be seem.

However, the market is constantly evolving and will continue to test and adopt more innovate payment solutions.